COOP Group
About COOP
Union of Czech and Moravian Consumer Cooperatives (COOP Group) brings together 46 consumer cooperatives, which together operate nearly 2,500 stores with a total sales area of ​​around 400.000 m2 and employs nearly 13,000 people. In 2019, reported turnover by Czech and Moravian Consumer Cooperatives worth 31 billion CZK. The number of members of consumer cooperatives is about 107 000.
The member cooperatives operate under the joint brand COOP, which is the largest network of grocery stores in the Czech republic. Central purchasing is provided by two shopping centers COOP Centrum cooperative Prague and Brno COOP Moravia. More than 400 food stores are included in the retail chain COOP TUTY, COOP TIP, COOP TERNO and COOP DISKONT. In addition to the business, the Union operates 8 specialized secondary schools, a management institute, and the own mobile virtual operator COOP Mobil.
COOP is internationally used brand name meaning "consumer cooperatives", which began to emerge in the mid-19th century, near Manchester, England and quickly spread to many countries including the territory of the present Czech Republic. In Switzerland, Italy, Finland and the Slovak Republic COOP is the market leader in retail sales of food and also has a strong position in Scandinavia, Great Britain, Japan and other Asian countries.
 Management of the Union of Czech and Moravian Consumer Cooperatives:
 Ing. Pavel Březina
Chairman of the Board
Ing. Ladislav Kravák, MBA

Deputy Chairman of the Board
COOP. All good.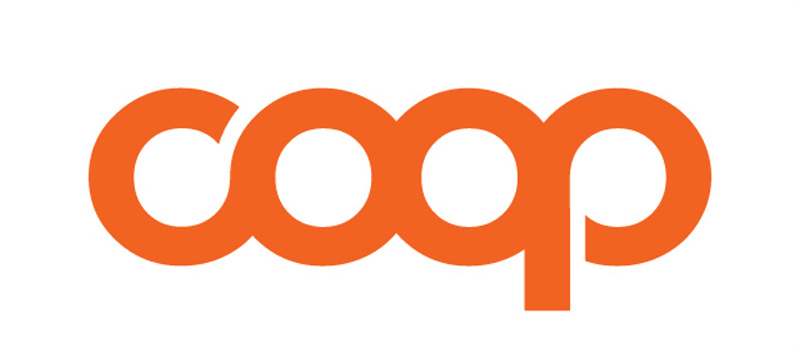 Financial and other services in COOP stores
Cashless payment
By central purchasing of 2,000 payment terminals and an agreement on the acceptance of cashless payments with CSOB group COOP ensure the possibility of using this service has been granted under favorable conditions in most of its urban and rural stores. The vast majority of stores is so in terms of infrastructure for the provision of financial services on par with multinational competitors.
Withdrawal of cash at the cash desk
Modern and increasingly popular service of withdrawing cash at the cash desk, known as CashBack, allows at the designated cash desks of COOP stores to withdraw cash up to CZK 1,500 in comfortable and fast way. Just ensure that you have any of the payment cards of card associations Visa and MasterCard, and purchase at least CZK 300 in the store. Withdrawing money at the cash desk in COOP stores is more convenient for customers, who don´t have to spend time looking and walking to another dispensing place, because they have everything available in "their" store. When withdrawing money at the cash desk with a card of Poštovní spořitelna or ČSOB, service is provided free of charge so that customers will save on bank charges with these cards.
Bills payment and deposits in bank accounts
Time and money, this is what customers will be able to save in COOP stores through the newly introduced services allowing paying bills, payment of invoices and depositing money in a bank account in cash or by credit card. This service is offered since December 2011, tested in selected COOP stores network in two locations.
Mobile phone credit recharge
This service popular with customers enables quick recharge of mobile phones credit in the store. Charging is done via a payment terminal. The interest in recharging credit is rising year on year, and in the third year since the introduction of service in the network of shops COOP collectively held more than 1.2 million transactions.
Provision of postal services under a contract with the Czech Post
COOP stores are looking for new ways to meet the expectations of its customers. One of the innovations is the provision of postal services under a contract with the Czech Post, either a wider range of services with a greater range of hours to the public or through vending COOP as a refilling point for the issue of stored items. The cooperation was initiated in the several locations in 2011 and continues to expand.
Regional food
In addition to financial and ancillary services in its stores with COOP focuses on selling quality, regional products from the Czech Republic. As a traditional retailer operating in small municipalities is very close to regionalism.
Individual consumer cooperatives promote these foods in different ways. For all we can cite the example of a cooperative program in the Czech Budejovice - "Quality food from our region," a cooperative program in Usti nad Orlici - "At home". Now team in Usti nad Orlici is a trading company that has in the Czech Republic, the largest share of regional goods. In stores so you can find everyday products from local farmers, bakers, butchers and other honest local producers.
Both programs are aimed at fine selection of regional foods and promote economic / social climate in the region. The basic points that describe these programs are:
Honesty and fairness
A healthier way of eating
Regional products
Employment in the region
Tradition and identity of the region as a whole
Ecology and landscape protection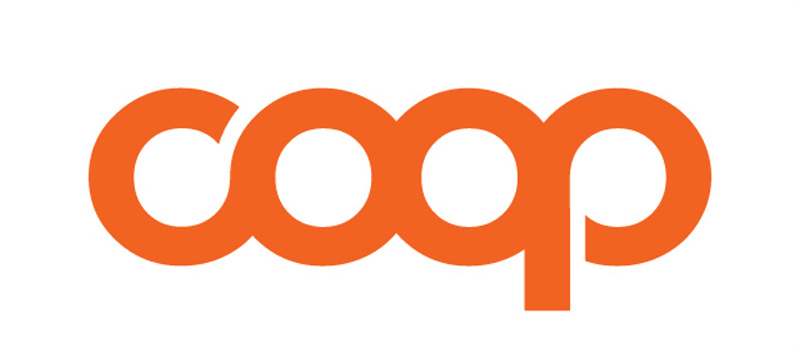 Retail chains COOP
String retail network of consumer cooperatives contributes significantly to the retail turnover of the COOP group. Chain accounts for approximately 15% of the total number of retail units SD in direct management of operations, which constitute approx. 35% of retail turnover.
COOP TUTY
In this chain, the characteristic non-anonymous relationship to customers are included in retail grocery sales area of 100-299 square meters, offering food and non-food items of daily use at reasonable prices.
COOP TIP
The strings were placed in stores, whose sales area was set at 300-999 square meters. They feature a wide range of food and non-food goods of daily demand. Technological and surface characteristics of this sales format, allowing offer a varied assortment of fresh goods.
COOP TERNO
It is another cooperative retail chain, which brings together large-scale supermarkets with a sales area of 500 m2 and above. This actually adapts to structural design, technology, operations, technology sales, locating merchandise on the sales floor and trade policy. Supermarkets Terno used primarily for larger weekly shopping with mileage customers.
The dominant system of direct supply guarantees a wide and varied menu of mostly fresh goods at favorable prices. Attendance at business unit COOP TERNO supports very flexible price policy and offer services.
COOP DISKONT
On an increasingly popular form of discount sales also responded to consumer cooperatives. The immediate impetus came from the East region and led in mid-1997 to establish a chain COOP DISKONT.
This cooperative chain corresponds to the general specifics of the discount form of sales, primarily lower prices, the possibility of rapid buying and selling easy orientation in space. The offer consists of strictly specified range of basic food items and non-food assortment of daily use.
JOINT PURCHASING
COOP Centrum cooperative
COOP Centrum cooperative Prague, winner of National Award for Quality CR 2007 was founded in the fall of 1993 in order to consolidate the purchasing activities of consumer cooperatives in Bohemia and Moravia and create a buying alliance of consumer cooperatives in the Czech Republic. The main reason for this crucial and largest cooperative activities of consumer cooperatives were rapid changes on the Czech market.
COOP Center provides for an integrated consumer cooperatives purchase goods and services from about 450 suppliers of warehouse supplies, fresh produce, and the several dozen suppliers of building materials. Organizes sales events and competitions, publishes quarterly customer magazine, success has its magazínek for children and cooperatives offer other marketing activities.
COOP Center provides for consumer cooperatives and private label products. It is a line of products labeled COOP Klasik, which was the first series of products of its own brand COOP. At present it is about 80 products. They are designed for consumers who prefer to buy goods at the lowest price.
The second group's own brands of 50 items is marked COOP Premium. It is a multinational brand and merchandise marked the highest European quality, moreover, has a reasonable price, so it can satisfy even the most demanding customers.
The latest is a series of COOP Quality Standard. Under this designation is for consumers who want to buy cheap and at the same time asking for products of famous brands. The new range is the COOP. Good security.
COOP Centrum družstvo
Registered office and mailing address: U Rajské zahrady 3/1912
130 00 Prague 3
tel .: 224106291, 224106292
Fax: 224 106 120
E-mail: coop@coop.cz
http://www.coop.cz/

COOP MORAVA, Ltd.
COOP Morava, Ltd. was founded in 1992 by Moravian consumer cooperatives to provide integrated purchase food and non-food goods in wholesale warehouses and stores teams. In its activities, it is actively working with its member consumer cooperatives and implements its activities also in marketing support and other activities.
COOP Morava, s. r. o.
Sukova 553/2
659 40 Brno
Tel .: 542 212 720
E-mail: coopmorava@coopmorava.cz
www.coopmorava.cz
EURO COOP
EURO COOP, Inc. founded in late 2000, representatives of the Czech, Slovak and Hungarian consumer cooperatives as a purchasing alliance, whose main task is the joint purchase of its shareholders and the introduction of premium own brand and service.
Shareholders of EURO COOP, Inc. the COOP Hungary Rt., COOP Jednota Slovensko, sd, COOP Centrum cooperative Prague and the Central Cooperative Union Bulgaria who contribute equally to the creation of the share capital of the company and have equal representation in its bodies.
EURO COOP, Inc.
Bajkalská ul. 25
827 18 Bratislava
Slovak Republic
Tel.: + 421 258 233 246
Fax: +421 258 233 250
E-mail: coopeuro@coopeuro.com
www.coopeuro.com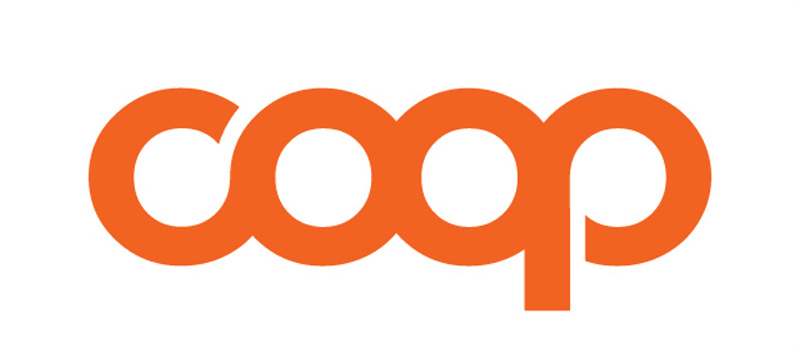 COOP Mobil
Cheap calls for regular customers. This is exactly the advantage that the new virtual operator COOP Mobile offers for its customers. Tariffs are prepared for prepaid cards that customers can recharge through the COOP stores, coupons, or on the Internet. In addition, COOP Mobil also offers two flat-rate tariffs with a contract and without a commitment, so that the customer does not have to subscribe for years in advance. It is only up to the customer to decide how to use the Mobile Service COOP. Tariffs were prepared as closely as possible to the needs of customers. Thanks to this, both undemanding clients and more demanding ones can choose their best option. In addition to voice services, customers can also use data tariffs and of course roaming for calling from abroad. Customers can find more information at www.coopmobil.cz.
COOP Mobil is the first virtual operator, which has linked regular purchases and rewards for them. In regular promotions, the customer can get free minutes for calls to all networks for the purchase of the selected product at COOP stores. This allows customers to get closer to the main goal and that are free calls for regular shopping.